Do you want to start growing cannabis indoors, but you don't have enough space? No worries, indoor growing is possible with minimum effort and limited space. Get yourself a grow box and make your horticulture dreams come true.
The best grow box will ensure success in indoor gardening. This equipment makes an ideal growing environment for plants, since it's not affected by external weather conditions. It means that you can grow anything you want regardless of what season of the year it is – winter, spring, summer, or fall.
However, there are lots of grow boxes available nowadays, so choosing the best one is crucial.
What is a grow box?
First, what is a grow box? To put it simply, a marijuana grow box is a contained ecosystem that's designed to grow cannabis. It usually comes as a kit, meaning not just a cabinet by itself, but with almost everything that you'll need to help your plants grow from seedlings to maturity.
A grow box can be used both in a hydroponic setup (where plants are grown in a nutrient solution) and soil (where plants get nutrients from the soil). Some grow boxes need a little work, while others are automated.
A grow box can help you grow different strains of cannabis, but you can also cultivate other crops, such as herbs and vegetables. You just have to adjust the temperature, humidity, and other conditions depending on the type of plant you are planning to grow.
How does a grow box work?
Before growing your weed in a grow box, you need to understand how it works. A grow box or grow cabinet provides an environment that has almost similar conditions to when you grow in a natural setting outdoors; however, you have more control of the light, humidity, temperature, and other factors, because everything is limited within a tiny box.
Since this equipment gives you overall control of your plant's needs, you no longer need to check the weather updates to protect it from harsh weather conditions like rain or snow. Also, you won't have to worry about bugs or diseases.
Furthermore, a grow box is effective in generating high-quality yields, and it helps you grow marijuana discreetly because it's so compact. It won't attract attention from your neighbors. A marijuana grow box is definitely a smart investment, even for someone new to growing cannabis.
Why should you use a marijuana grow box?
There are lots of advantages when using a grow box. Besides helping you to grow discreetly, it can perform other functions too.
As mentioned earlier, most marijuana grow boxes are equipped with everything to get you started. Though not as flashy as some of the best marijuana grow tents, a good grow cabinet usually comes with high-quality LED grow lights, filters, and fans for enhanced ventilation and air circulation. Also, it's equipped with reflective interiors that can distribute light to every part of your plant.
Many grow boxes also have additional features. You could get that one with a timer, pumps, pH adjusters to correct poor soil pH, and more. It could also have a locking feature to protect your automated grow from pests.
Grow boxes are highly adaptable, meaning you can adjust everything, including lighting, ventilation, and humidity. Some even allow users to change the watering schedule. You can grow seedlings, mature plants, and even clones inside a weed cabinet.
Another reason you should use a marijuana grow box is it's more discreet than a grow tent, since it looks like a normal cabinet or storage locker. It may also feature an odor-control system that can eliminate the scent of marijuana. You won't have to worry about anyone wondering what you are growing.
Finally, these compact boxes aren't that expensive compared to a standard grow tent. But keep in mind that a good grow box should come with all the components you need, including the grow lamps, filters, fans, etc. It's best if you don't have to buy these items separately because it will save you some time and money and reduce stress. In short, you should get the best value for your money with a grow box.
What are the things to consider when choosing the best grow box?
Before we proceed with our review of the best grow boxes, you should be aware of the different factors you should consider when buying one. Here are the things you should check first before making a purchase:
Size of the grow box
The first thing to look at is size. Measure the area where you're going to place the grow unit. That way, you'll know the exact size of grow box that can fit in your area. If you don't get the correct size, you might end up with an expensive package that doesn't fit. But if it's too small, you will miss out on the opportunity to grow more plants.
Lightproof capability
Investing in a grow box that isn't perfectly lightproof is a waste of money. If you wish to grow cannabis successfully indoors, you need to make sure that your grow box is lightproof. Just imagine what would happen if light leaks when your plants are in the flowering stage. You should check for yourself if light can penetrate the interior while the light is off before buying.
Accessories
When you're shopping for the best grow box, consider the accessories needed for complete installation. Luckily, most grow boxes are sold as complete packages, which is a huge advantage for consumers. Buying extra gear can increase the cost of installation. Compare brands, and choose the one that's best for your budget and setup.
Adjustable features
Most growers want a comprehensive grow box that's adjustable. Some gardeners use a grow box to keep the mothers for generating clones, while others use it for breeding new strains of marijuana or germinating seeds. You also want to make sure that the box can help you cycle your crop through different stages of growth.
Style and design
If you're aiming for a discreet way of growing, choose a small grow box that can blend in with your furniture and room decor. You should also go for a lockable grow box for extra protection. Moreover, some units are fully automated and can be linked to a smartphone app.
Price
The cost of the unit itself and the installation fees should also be considered. If you have a big budget and ample space, then buying a more expensive one that's more durable is an excellent idea. However, you should think of a convenient size that's more affordable if you're just starting out.
What are the best grow boxes?
Before we proceed with the review of these grow boxes, here's a quick table to compare the features of each model:
Dealzer is a famous brand when it comes to grow boxes and hydroponic equipment. This model can hold up to 6 plants. Moreover, it provides everything you need to help your plants thrive.
This grow box is an ideal choice for those who are planning a hydroponic setup, since it features a 1.5-gallon water reservoir. In addition, the unit uses heavy-duty steel, so it's durable. The box itself has an odor-free design, and it includes a secure lock system.
The best thing about this unit is that it's carbon protected to prevent emissions that pollute the environment. With the reflective Mylar interior, you can rest assured that no light can escape so that it's being used by your plants efficiently.
Odor-free
Can support up to 6 plants
Has a secure locking system
Creates noises while working
Too small for users aiming for a larger garden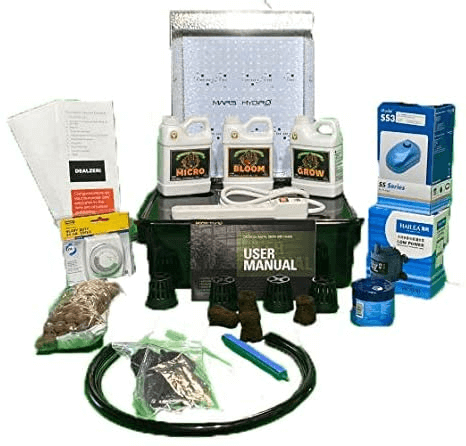 At first glance, someone would mistake this unit for a cabinet instead of a grow box. Therefore, it's suitable for your bedroom, office, or kitchen. It's also a complete hydroponic unit that provides all your plant's needs. The only thing missing are the seeds, and speaking of that, you can get the best cannabis seeds here.
This grow room utilizes quantum board LED lighting to produce the full spectrum of light. It has odor-removal fans to get rid of smells as well as improve airflow, thus creating a comfortable environment for your crop.
If you're looking for the best value for money, this grow box offers a lifetime warranty. However, the included grow light only comes with a one-year warranty. Customer support is available and responsive 24/7, and though it's pricey, it's durable and reliable.
Features an automated design for effortless use
Easy-to-understand user manual
Offers a lifetime warranty
Can only fit 4 plants at a time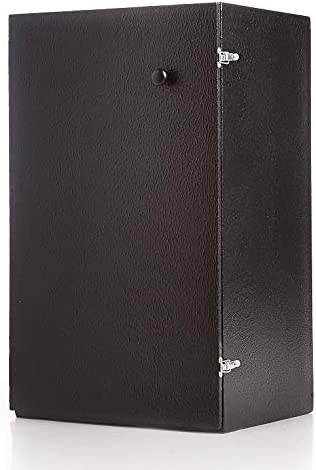 This other model from Dealzer is a grow box that provides everything required from seedling up to the flowering phase. This vertical chamber can be used for growing tall plants. Moreover, this system can fit almost anywhere in the house, such as the living room, bedroom, and kitchen. If you're looking for a stealth-type grow box, this model is a great choice.
Besides weed, you can also grow vegetables and herbs throughout the year. This grow box also comes with built-in odor controlling fans to enhance airflow inside it.
Furthermore, Growzilla 4 uses high-quality and durable wood. The exterior is smooth to the touch and hand-painted for added aesthetics. And because it's vertical, it looks sleek.
This grow box features Mars Hydro full-spectrum LED lights to provide an ideal environment where plants can grow efficiently.
Attractive, sleek design
Offers a lifetime warranty
Features durable, built-in odor-controlling fans
Not portable because it's heavy

If you wish to grow big leafy plants, then this grow box from OPCOM is the best for you. For smaller plants, you can grow up to 50 of them. This fancy, retractable box has vine stands to assist climbing plants. Aside from marijuana, you can use it to grow lettuce, cherry tomato, spinach, cucumber, and many more.
As a hydroponic setup, it utilizes the DFT technique to circulate water and nutrients throughout the root zone. The LED grow lights are included in the package, and they can be customized to set specific spectrums needed for each growing stage. The bulbs can easily be replaced with the standard A60 PAR38 LED bulbs.
This grow box is perfect for beginners because it's budget-friendly and easy to set up.
Uses advanced DFT technique to circulate nutrients
High capacity
Adjustable grow light
Heavy
Requires special care
This grow box has built-in LED spectrum lighting, allowing your weed to grow on their own without the need for natural sunlight. Air filtration is provided by a carbon fabric intake and exhaust system. Moreover, the unit is odor-controlled because it has an ONA block.
This hydroponic grow box arrives fully assembled in a plain box, so there's no need to spend long hours reading the manual on how to install it. All you need to do is pick the perfect spot in your home, and you're all set.
Features odor control and locking features
Cheaper than other grow boxes
Comes with 24/7 tech support via call or email
Can handle up to 6 plants at a time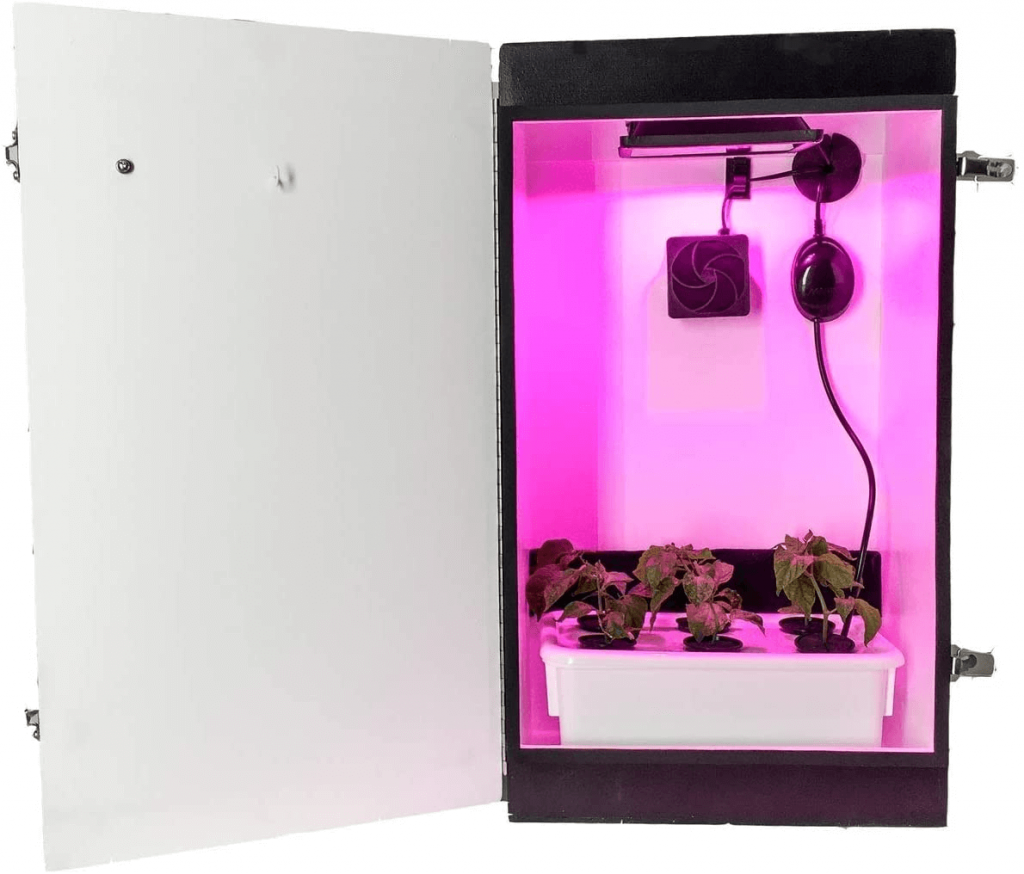 Recap
One significant advantage of a grow box over other gardening equipment is that it's already a total package. It typically includes all the accessories you need from germination until harvest. Reading through these reviews will give you an insight into the best grow boxes in the market today.
Whether you're a hydroponic enthusiast or a traditional soil grower, these grow boxes can help you meet your growing goals in the comfort of your own home. You'll enjoy fantastic yields, and it's a discreet way of growing too.