Rosin is a solventless concentrate that's becoming popular in the cannabis world, surpassing other solvent products like waxes and live resin. Since rosin is made by heat and pressure alone, it's perceived as purer and more costly than other extracts that are exposed to chemical solvents.
However, you can make it yourself. All you need is good weed, a little heat, and a lot of pressure. This is where the NugSmasher comes into play, because it can save you from all the tedious work. To learn everything about NugSmasher rosin presses, how to use them, and their different models, read on.
What is a NugSmasher Rosin Press?
NugSmasher is one of the hottest brands in the rosin pressing industry. They manufacture high-quality rosin presses to cater to every size of operation, from commercial growing to your personal needs.
NugSmasher immediately became a household name because of their high-quality rosin presses. They produce several models, such as manual, electric, and pneumatic rosin presses. Each product has its strengths and uses.
Before we go to the review of these different presses, here are the pros and cons of the NugSmasher rosin press in general.
High quality and lifetime warranty
All NugSmasher products are proudly made in Corona, California. They're made to last a lifetime, and they feature frames of sturdy, interlocked American steel and pressing plates constructed from aircraft-grade aluminum.
Not only are they extremely durable, but they're also built with safety in mind. Every model contains a primary circuit and 3 sub-circuits. The circuits can easily be reset through an access panel on the front of the unit, so you can get back to work safely even if they trip.
Moreover, these presses come with a lifetime warranty. Customer service is available anytime during their business hours to help you with your concerns.
Ease of use
All NugSmasher models are plug and play, and you won't necessarily need an air compressor. Some models can run with an air compressor to increase production capacity, but you can also operate them manually. Whatever your model is, you can just plug it in, turn it on, and start the extraction process.
Ultra-precise and consistent temperature
The heat cartridges inside the plates ensure fast heating and even heat distribution. The thermally isolated top plates minimize the loss of heat in the pressing area. You just need to set the desired temperature, and your press will heat the plates accordingly. Once you reach the desired temperature, the plates stay at that temperature throughout the press for consistency.
There's only one disadvantage of the NugSmasher rosin press that may not apply to everyone.. These models are aimed at home users and small commercial operations. While the Pro model can connect to an air compressor, giving it the capacity for a good-sized operation, it still can't compete with the high-end and more expensive rosin presses.
But if you're only pressing for yourself or just starting a small commercial operation, then these units are excellent.
How do you use the NugSmasher Rosin Press?
Here's a list of the things you need before you start pressing:
Fresh flower
Parchment paper
Micron bag
NugSmasher
The most important thing about the flower is the humidity level you're starting with. Ideally, it should be around 70% when it's fresh. If you're purchasing it from a dispensary, ask the seller for the most recent drop. You want the weed to be of high quality with enough terpenes and cannabinoids still present to yield a good amount of extract.
Dried-out flowers have lost most of the chemical compounds you're looking to extract, so the flower quality and freshness should be considered.
Quickstart guide
When using the NugSmasher Rosin Press, follow the directions listed below.
Before turning on the unit, make sure the plates are closed. Insert the handle into the vertical opening on the right side of the unit and pump it until the surfaces of the plates are pressed together. This allows the temperature sensor in the plates to get an accurate reading while distributing the heat evenly.
Keep the release valve in the closed, clockwise position when not in use, and don't turn it more than a half-turn counterclockwise.
Set the power switch to the ON position, and you'll notice that there are two rows of digits. The top is the current temperature of the heat plates, while the bottom is the set temperature. The unit comes preset at 200 degrees Fahrenheit, and it will take around 10 to 12 minutes to reach the set temperature.
Remove the plastic case around the control panel. Press the up or down arrows to choose the desired temperature setting, then the "enter" button to lock it in.
Ideal temperature
The best temperature varies depending on the strain and growing techniques, but 200 degrees Fahrenheit is generally a good place to start. If you have a large amount of flower, you can start at 220 degrees Fahrenheit, then drop it by 5 to 7 degrees Fahrenheit per batch until you find the ideal temperature for your particular strain.
Micron bags
For optimal yield and purity, you should use extraction bags in sizes like 3.5 grams, 7 grams, and 14 grams. You can use 16 microns for fresh, sticky flower, 90 microns for dried-out flower, 120 microns for mid-level flower, and 25 microns for bubble hash. If you want to press nugs that are one gram or less, you won't need a bag.
Just push the corners of the micron bag inwards, then load it with whole nugs. Make sure they're packed tight so that there are no air pockets, but not too tight that the material is crushed. You should fold the top inwards too so that your package is ready to go.
Pressure
Once the device has hit the ideal temperature, it's time to press. Just put the loaded micron bag in a folded piece of parchment paper, then place it between the plates.
Raise the plates by pumping the handle slowly to build heat into the material. The entire pressing process should take around 90 to 120 seconds, depending on the strain.
Don't overpress the material, and do it slowly until the weight of the two fingers on the handle won't compress it any further. Compress about ⅓ of a full cycle for 3.5 grams, ⅔ of a full cycle for 7 grams, and one full cycle for 14 grams.
Afterward, you can remove and collect all the rosin from the parchment paper.
What are the models of NugSmasher Rosin Press?
Here's a quick table to show the differences between each model of NugSmasher:
NugSmasher Mini
This is the smallest rosin press in the lineup, with 2.5 by 2.5-inch plates. It's meant for personal use, not a large-scale operation. This mini version generates 2 tons of pressure manually, and it's capable of pressing up to 3.5 grams of material at a time.
The unit measures 14 inches tall by 7 inches wide, so it's portable and easy to carry around for on-the-go extraction. It weighs about 25 pounds and is very simple to use, making it a top choice among personal-use presses.
Features:
2 tons of pressure
Made of extremely rugged solid steel
Can press up to 3.5 grams of material per press
Circuit protection for added safety
Temperature control with pinpoint accuracy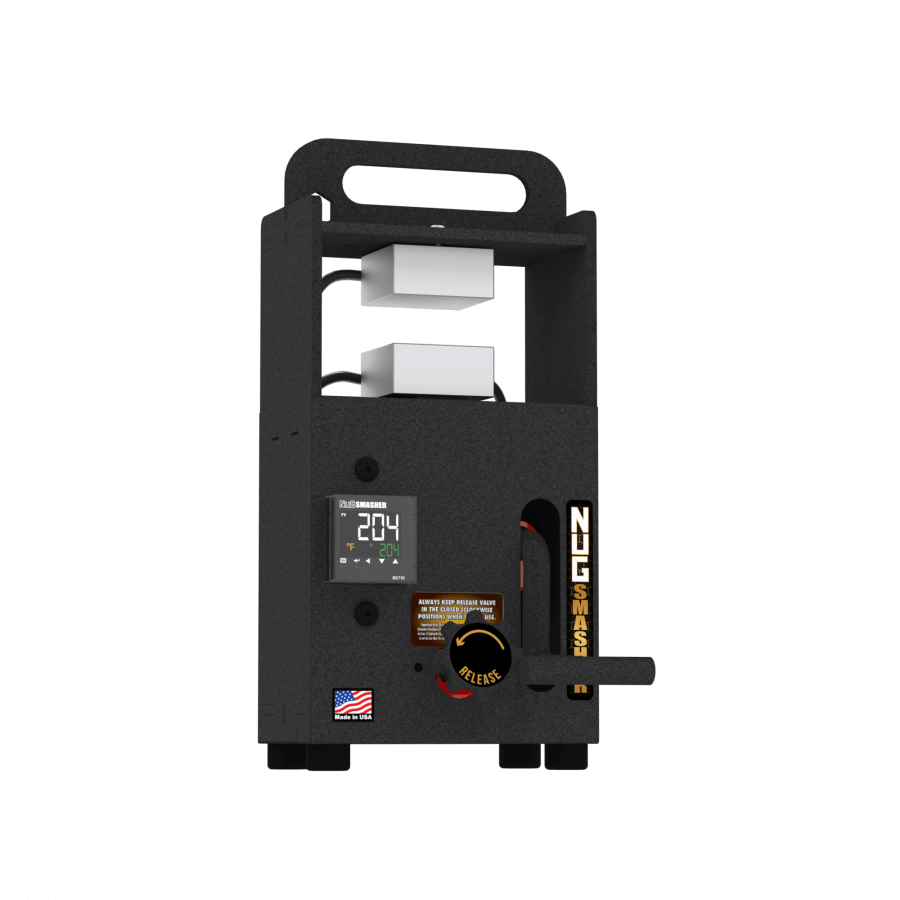 NugSmasher Original
This is the standard unit of the NugSmasher lineup. It can generate around 12 tons of pressure and process up to 14 grams per press on its 4 x 4 plates. This model has a higher capacity than the mini version, and it's operated manually.
It's probably the best-value machine on the market. Like the other NugSmasher products, it's made in the US and comes with a lifetime warranty. This rosin press is great for personal use, and it's incredibly easy to operate.
Features:
12 tons of pressure
Can press up to 14 grams of material per press
Large 4 x 4 smash plates
2 x 160-watt heating elements
Safe, fast, and convenient smash plate release lever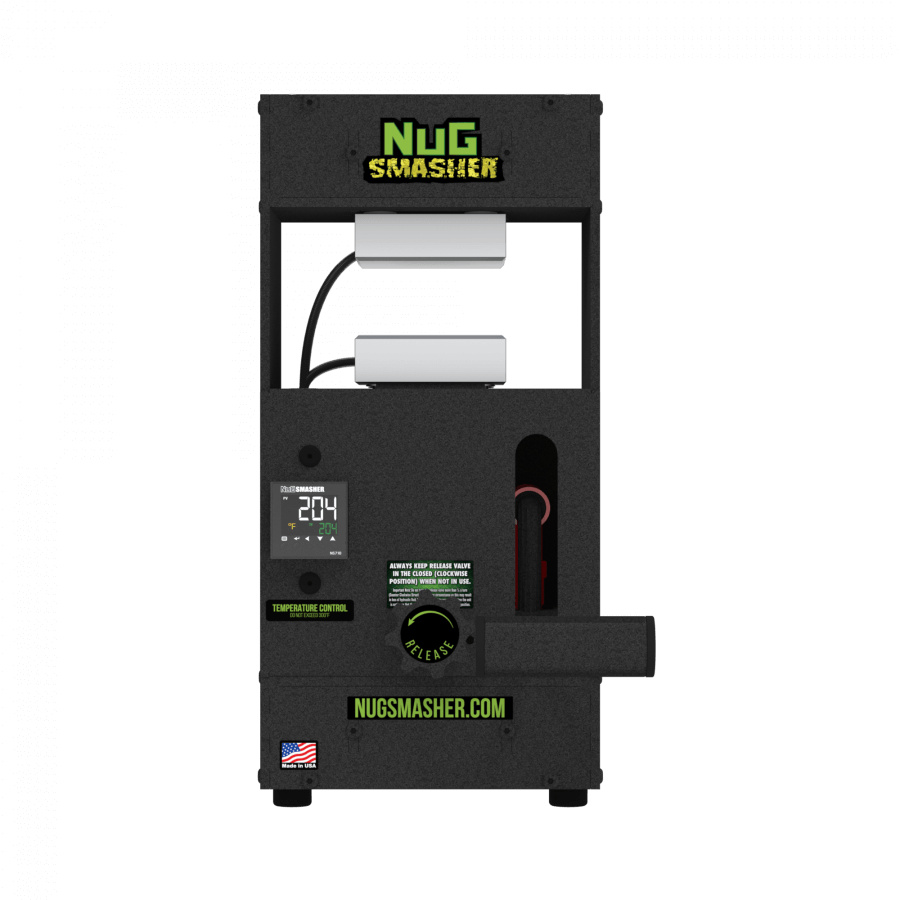 NugSmasher X
This is the latest addition to NugSmasher's lineup. The NugSmasher X has 4 x 4-inch plates and generates 3 tons of power. It has the capacity to press up to 14 grams in one go.
This rosin press works with electricity, which means you just have to push a button to start the process. There's no need to press the handle manually, so it's as easy as possible to operate.
If you want an electric press, then this one is a fantastic choice. With its high amount of pressure and capacity and its lifetime warranty, it's truly one of the best electric presses on the market.
Features:
One-touch automatic operation
Accurate Digital Temperature Control NS710
Can extract up to 14 grams at once
Has precision extraction plate alignment rods and bearings
Large 4 x 4 smash plates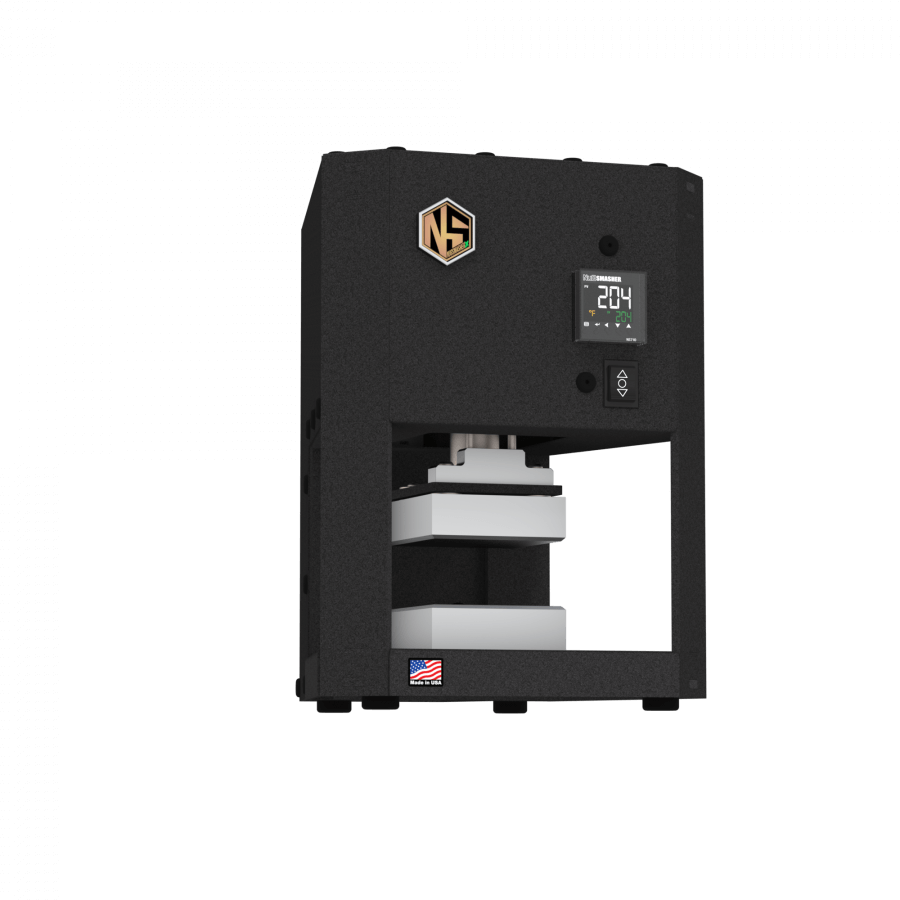 NugSmasher XP
The word XP in this model stands for expert. It's the upgraded version of the OG with added features. It comes with a pressure gauge so you can find the perfect pressure for your material.
This model also has larger plates, measuring about 4 by 6 inches. Each plate comes with a second heat cartridge to ensure a faster heating time and even heat distribution. The larger plates also double the capacity, allowing you to press two bags of 14 grams at a time. The pressure is the same as the X and the original models at 12 tons.
The NugSmasher XP manual rosin press also comes with LED lights, but it doesn't seem like a big deal. Still, it's one of the most precise and easy-to-use manual rosin presses you can find on the market.
Features:
12 tons of pressure
Can press 28 grams of material at a time
Comes with oversized 6 x 4-inch aircraft-grade aluminum smash plates
LED illuminated smash plates for accurate operation
Manual pump level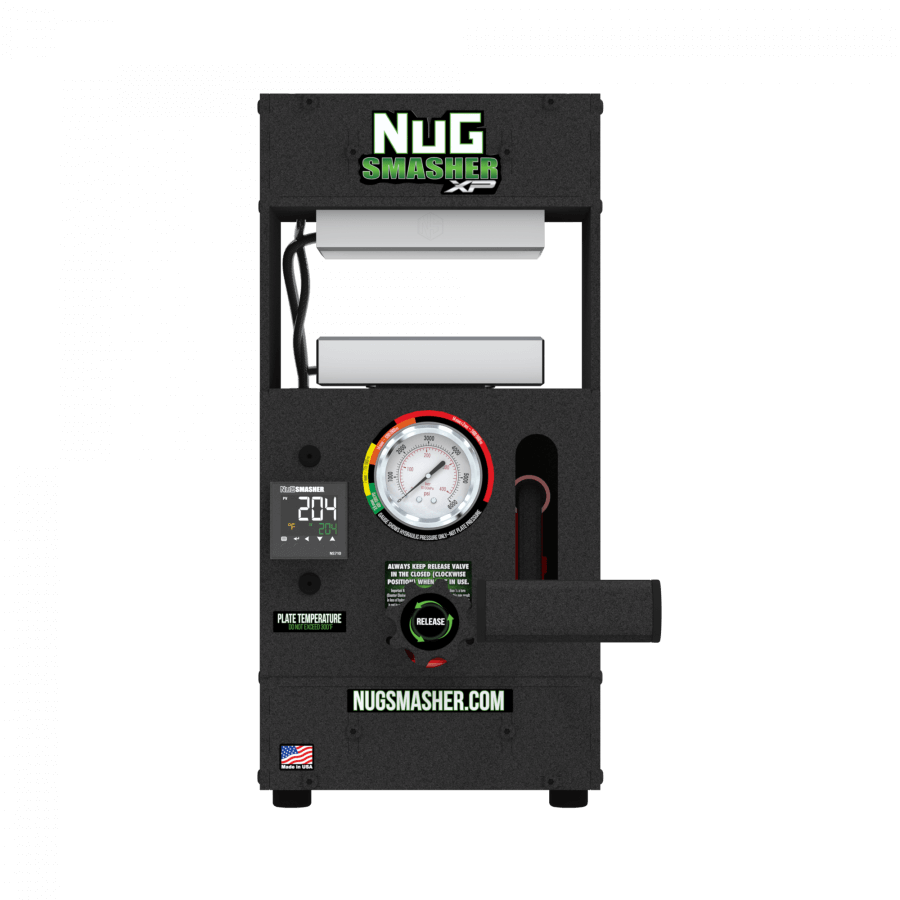 NugSmasher Touch
This is the most advanced rosin press from any of the leading names in manual rosin press technology. It has 4 by 6-inch plates, producing a maximum of 12 tons that can press up to 28 grams of material in one go.
The word "touch" means that it has a touchscreen display. It also has a sophisticated computer system called the Interactive Extraction Brain, which makes pressing as easy as possible. It eliminates all the guesswork by giving you accurate readings for precise, high-quality extractions.
For instance, it has a built-in surface area calculator that helps you find the right pressure every time, even on the first press with new material. It does all the math to adjust the PSI for you based on the amount of product you're going to extract. The pressure readout also ensures you can achieve the same pressure for every subsequent press.
Features:
5-inch capacitive touch TFT LCD
Interactive Extraction Brain
Large 6 x 4-inch smash plates
Extraction timer
Pressure readout
Surface area extraction calculator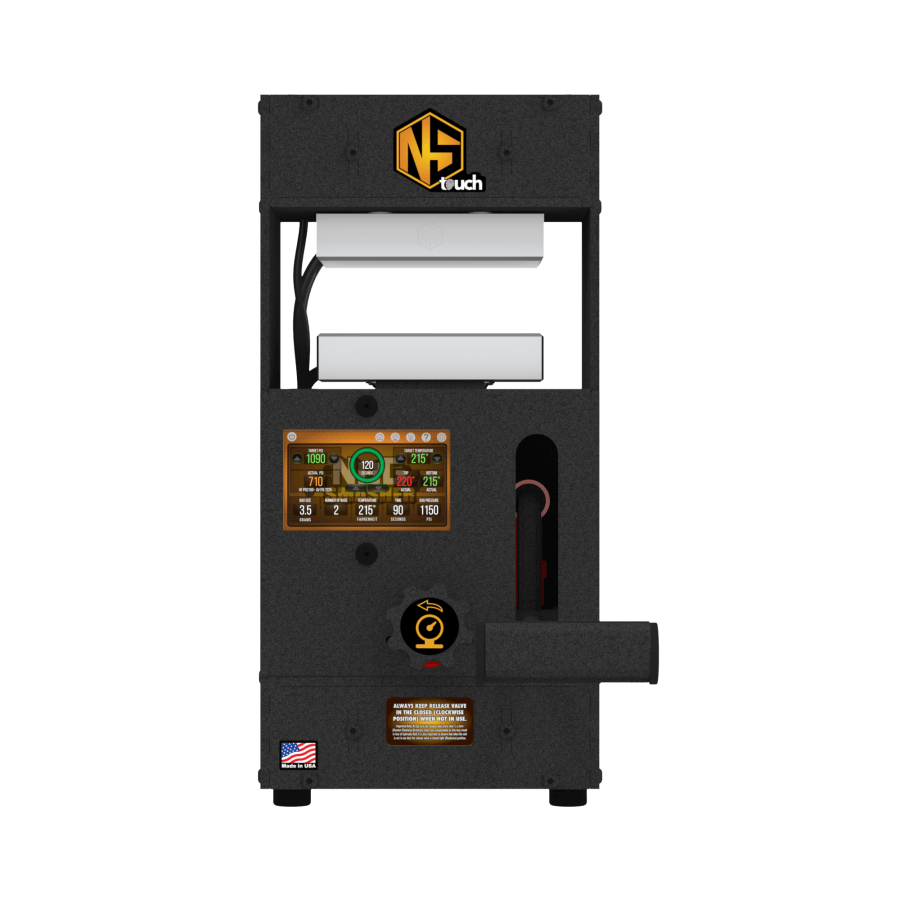 NugSmasher Pro
This model is the most powerful in the line. NugsmasherPro is also a manual machine, but you have the option to hook it up to an air compressor for hydraulic operation. It gives you a full 20 tons of power and has massive 7 by 10-inch plates. It allows you to process up to 112 grams of material at a time.
What sets this model apart from other NugSmasher rosin presses is it's truly a hybrid machine. You can operate its ergonomically-designed handles manually or you can transform it into a fully automatic pneumatic press. This unit is an excellent choice if you need a super-powerful, dependable press that's flexible enough to adapt to your needs.
Features:
20 tons of pressure
Built-in pressure gauge with pressure release
Large 7 x 10-inch smash plates or optional dual 2.5 x 10-inch plates with matched alignment or centering racks
Accurate temperature control
Accurate pressure gauge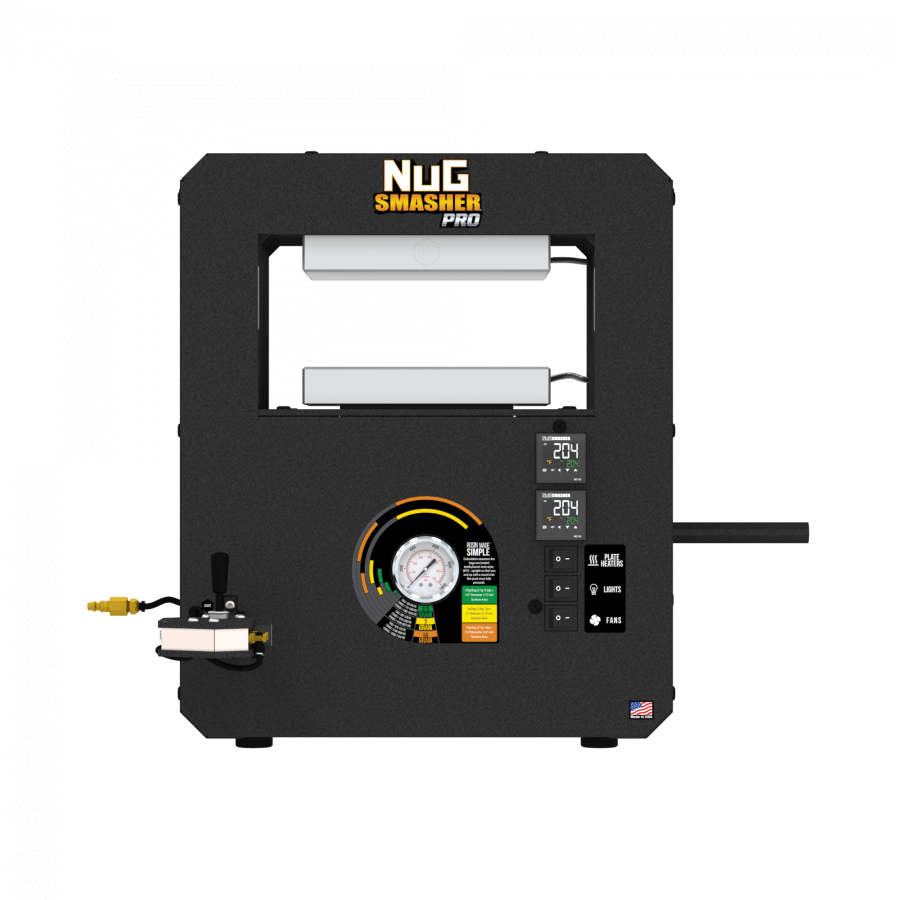 Final Thoughts
NugSmasher is a formidable brand because of the consistently high quality they deliver. It won't be surprising if they become the brand to beat in the rosin press industry.
Their presses come in different models. The Mini version is the ideal travel-sized rosin press that's also light on the pocket. However, if you want a press with more pressure, the Original is your best option. If you prefer an automatic machine, the X version is your go-to.
The Pro model is designed for the ultimate professional experience. This combination of the manual and automatic rosin press machines is capable of pressing large amounts of material at a time. Whichever you choose, you can be sure of the best possible quality to make your pressing sessions easier.