Do you live in a small apartment? Or do you find yourself moving a lot? Do you want to grow marijuana plants but don't have garden space? If the answer to all these questions is a big yes, there's something that can be done about your situation.
A grow tent is the solution to your problem. You can grow cannabis plants indoors, using a pot or a hydroponic setup, inside a grow tent. Additionally, you won't have to worry about pests, diseases, and harsh weather. It's typically light-proof and made of durable materials, and you can also regulate the humidity and temperature to optimize your plants' environment.
Though choosing the right grow tent might seem complicated because there are lots of options available, we can help you find the best one suited for your setup and budget. In this post, we'll learn about the best grow tents, the factors to consider when choosing one, and the answers to some common questions about them.
Before we go deeper into our list of the best grow tents, let's gain a basic knowledge of what a grow tent is first and why you would need one.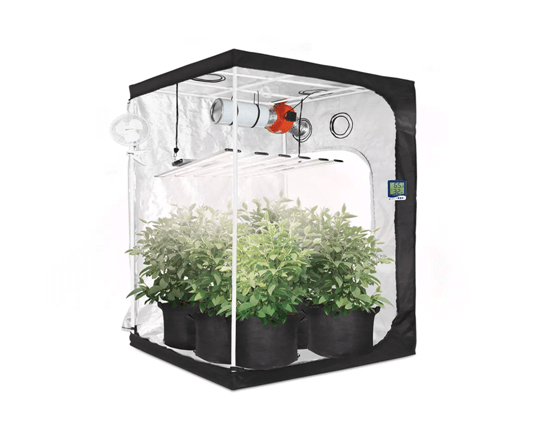 What Is a Grow Tent?
A grow tent is a portable and reusable grow room that is made of a durable canvas exterior, reflective interior material, and different ports. It also allows the installation of lighting, ventilation, and other kits. It provides an enclosed space to grow marijuana plants efficiently and discreetly.
Though most grow tents are marketed for cannabis gardening, they can also be used to cultivate a wide range of crops. Grow tents are available in different sizes and shapes to meet your needs. Smaller grow tents like a 3×3 are meant for growers looking to cultivate a few plants, while larger ones such as a 5×5 are for those who wish to grow a full garden throughout the year.
Grow tents are carefully designed to contain a range of kits, whether the cultivator is growing using a soil medium or in hydroponics. They are made to be light-proof so that the plants' growth cycles are unaffected by outside light and other factors.
Since you'll be the one controlling the temperature and humidity levels, you can install an efficient ventilation system and humidifier to regulate temperature and moisture and enhance airflow. Gardeners raising sensitive plants that require specific growing conditions can benefit from using a grow tent.
Benefits of Using a Grow Tent
A grow tent is an effective solution to grow cannabis plants either with soil or a soilless medium. Even though you don't have an outdoor garden, you can easily grow any plant inside your home, on the balcony, and even in your bedroom. Here are the benefits of using a grow tent:
Light control
In an outdoor setting, light is a major issue for plants. For instance, some plants thrive in a low-light environment, while others need direct sunlight. These issues can be resolved by growing your plant in a grow tent. You can control the light and how it reaches your plant in this type of setup.
Cost-effective
A grow tent is both versatile and cost-effective while maximizing your indoor space. You can install proper lighting, a humidifier, and a fan in this type of enclosed space to promote better air circulation.
Energy efficient
The interior reflective surface of a grow tent can collect light rays from the grow lamps, then it delivers it to different areas, even below the canopy. This process is called diffuse reflection. The light is used more efficiently, meaning it can save energy at the same time.
Ability to grow year-round
For outdoor gardening, there are types of plants that depend on the weather conditions. For example, marijuana plants need a warm environment since they can't survive cold weather during winter. But in a grow tent, you can adjust the environment, depending on the required setting.
What Should You Look for in a Grow Tent?
Nowadays, there are hundreds of grow tents manufacturers and different brands, sizes, and price ranges. It can be daunting to narrow down the best brands in terms of their features, but we've listed some of the great features you should look for when buying one.
Heat resistant with double stitching
Since your tent is dealing with hot lights hanging in an enclosed space and other equipment that emit heat, the inner liner should reflect at least 90% of the light. As for the outer fabric, a 600D thickness is the best for a grow tent.
High-quality reflective material
One of the features you should look for in a grow tent is the reflective property of the interior walls. It will ensure that you're getting the most of your indoor grow lights. Not all grow tents are created equally, so you should look for one that incorporates reflective mylar that features 100% reflectivity. Some manufacturers use mylar with various patterns, but the pattern that's considered as having the best reflective quality is diamond.
No gapping in the fabric
Your grow tent should utilize your indoor grow lights effectively. It should be completely light-tight, meaning when you have your system running, the light can't escape. The grow tent should have overlapping velcro flaps to seal off corners and edges, along with zip-draws for cord ports.
Zipper quality
The zipper is usually overlooked when it comes to buying a tent. Since they're used every day, wear and tear can build up on poor-quality zippers. Zippers should be easy to zip and have a large surface area for your hands so that you can use them easily. The harder a tent is to zip, the more they're prone to damage, allowing light to escape from the tent.
Study frame and pole
Grow tents are constructed by assembling interlocking poles. Some manufacturers use height-adjustable poles, which means that it could have an extra set of 1 or 2 poles that can be attached to the vertical supports. These are perfect if you're growing Sativa-dominant marijuana strains since they require lots of vertical space.
These poles can be constructed from plastic, steel, or weaker metals. If you want something sturdy, look for metal, particularly steel, instead of plastic. It would also be nice if the pole had a snapping mechanism to lock it.
What Additional Features Should You Look For?
Viewing windows
If you want to check the progress of your crops without disturbing the growing environment, then look for a grow tent with viewing windows. They are usually secured with velcro to protect them from leakage, especially when using an additive like carbon dioxide.
Side pockets
If you want to keep your PPM, pH, moisture, temperature, and humidity meters in place, then having a tool pocket can prevent you from misplacing them. You can also use it to hold your clippers, journal, fertilizer, and other garden kits.
Flood tray
Flood trays are helpful, just in case you spill water or nutrient solutions. It's usually placed on the bottom of the grow tent, and it's designed to hold a certain amount of liquid. This flood tray is typically fastened to the poles to keep it in place.
Which Are the Best Grow Tents of 2021?
Before we go into the list, here's a quick comparison table of the best grow tents:
VIVOSUN is a trusted brand when it comes to grow tents. It features two amazing qualities we're looking for: the price point and a durable frame. The best thing about it is that it doesn't leak light. In fact, it's a sturdy product that's made of 600D canvas that's carefully double-stitched to ensure that light is blocked all the time. On the outer layer, it has a diamond reflective mylar, which is 98% lightproof.
As for the hanging bars, they're made of 0.8 mm metal with a zinc coating that can carry 110 pounds of weight. If you want to install a ventilation system, there's a cable attachment to the vent holes. With those cables, you can easily open or close the vent to ensure that you can change your ventilation plan quickly.
Made of 600D canvas interior with 98% reflective mylar on the exterior
Budget-friendly
Heavy-duty zippers
Size options are limited (ideal for small to medium grow)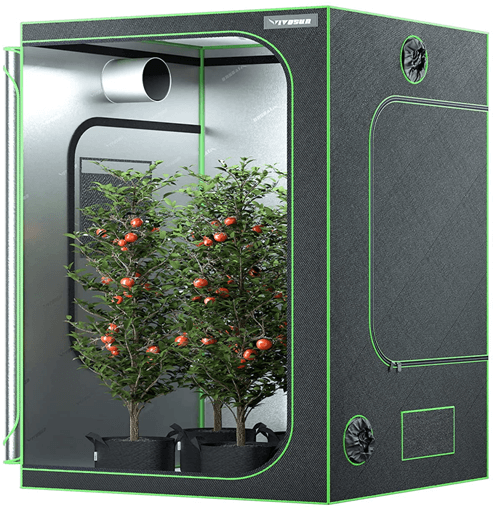 When you hear the brand Gorilla, expect a grow tent that's spacious with quality construction. But, it may be pricey.
This grow tent can be adjusted by extending or shrinking down the poles, depending on your space and what crops you're growing. It doesn't leak light and is sturdy enough to hold plenty of plants. The zipper is made of quality materials but can get stuck sometimes, especially if the tent is new. With consistent use, though, it will improve over time.
Since it's a large tent, you can easily add accessories without fuss. So, if you're planning an extensive grow, this is the best option.
It's a spacious tent that can hold all your plants nicely.
Leakproof
The height can be adjusted.
Expensive
The zipper can be problematic sometimes.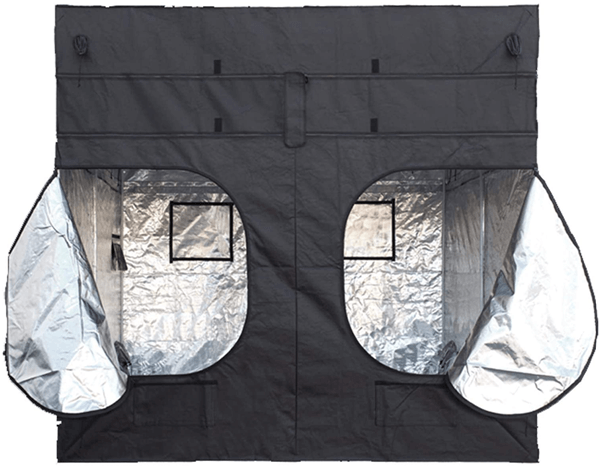 This grow tent from Apollo is made with a sturdy metal frame to ensure that your plants are secure. It's lined with 100% tear and light-proof mylar film that's reflective, thus helping to direct around 92 to 97% of the light to the plants inside the tent.
Your plants will be safe from any unwanted exposure since the thick fabric of this tent features double stitching. It also comes with heavy-duty zippers. Upon opening the package, you'll see that it includes a removable mylar floor, reflective mylar, filter straps, and of course, the user manual.
Come with zipper covers to secure the plants
It can be easily assembled.
Made of tearproof mylar film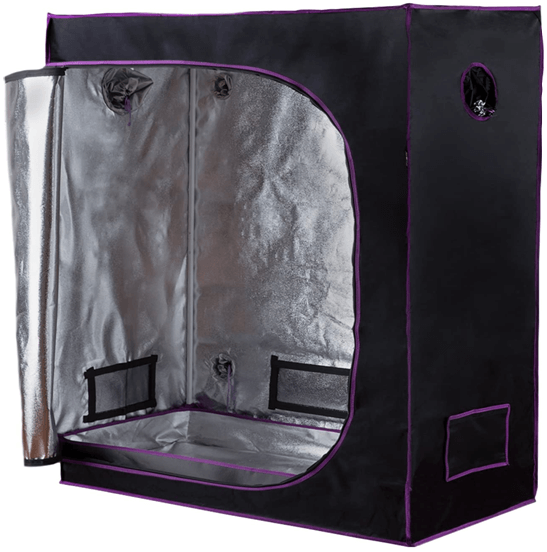 Aside from VIVOSUN, there's also a popular brand that's perfect for medium grow. Though the prices of the two products are pretty similar, the OPULENT grow tent has a visible amount of light leak coming out from the door, making it the runner-up.
For some growers, this flaw might not bother them because overall, the tent is sturdy. What's more, the canvas is of superior quality and double-stitched. The metal pole structure has a safe design that can hold the grow lamps, plus it's easy to install. Moreover, it has a window design for easy monitoring without disturbing the plants.
Good value for money
Offers 18 months warranty
Simple and fast to install
Light leaks around the door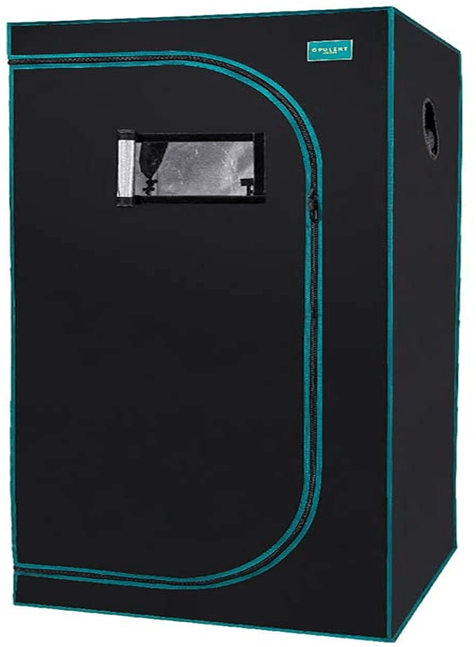 This multi-sized grow tent features a 96% reflective diamond mylar interior that's coated with a 600D Oxford cloth on the outside. It means that the inside material is highly reflective while the outer lining is lightproof.
Unlike other tents, it has flawless, big zippers that don't get stuck when used. The zippers also have light-proof backing, making this grow tent almost 100% light-proof. The tubes and connectors are constructed sturdily to hold the accessories, such as for ventilation.
This tent is also equipped with rectangular vents on the bottom portion to draw fresh air in and exhaust warm air. It also has circular vents on the top part for added ventilation.
Comes in different sizes
Lightproof with heavy-duty zippers
Multiple vents
The larger sizes of this brand have poor frame quality.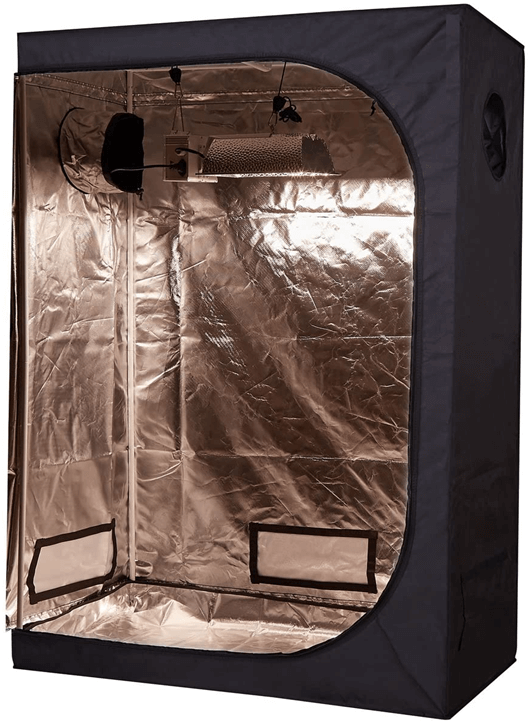 FAQs
What's the best grow tent for your situation?
The best grow tent to use is the one that can house your crop properly, and it should be able to prevent air and light from getting out. Also, it must have the strength to hold your growing equipment. Since all the tents on our list are good choices, how do you choose the best one?
If you're finding it difficult to choose a grow tent, another thing to consider is the best size for your plants. Here's a quick rundown of the most common sizes and how many plants can fit in each tent:
2 x 4 feet tent can contain 1 to 3 mature plants
4 x 4 feet tent can contain 3 to 4 mature plants
5 x 5 feet tent can contain 4 to 5 mature plants
6 x 6 feet tent can contain 5 to 6 mature plants
7 x 7 feet tent can contain 6 to 7 mature plants
8 x 4 feet tent can contain a maximum of 8 mature plants
Where is the best place to set up a grow tent?
There are two critical factors to consider when setting up a grow tent. It needs access to both electricity and airflow. Whether you're growing in the basement or bedroom, these two things are essential.
Electricity accessibility: When it comes to electricity, you need to ensure that your home has breakers large enough for all your equipment, including the grow lamps, fans, and other appliances that require electricity. To know how much you'll be utilizing, look at the wattage of each piece of equipment you plan on using on your grow tent.
Airflow accessibility: The area where you plan to set up your tent must have a window. It helps for drawing some fresh air in for your plants. Without a window, stale and heavy air will circulate through your room.
Is it hard to set up a grow tent?
Most grow tents are simple and easy to set up, especially the ones featured in this article. Even if you buy the largest one, assembly is usually as straightforward as connecting the poles together. Also, they normally don't require any special tools or equipment. And once you've done setting it up, you can install other accessories easily, such as lights and a ventilation system.
If you want to learn more, you can watch this video on setting up a grow tent.
Final Thoughts
A grow tent is an essential tool for a gardener who prefers to grow plants indoors. However, finding the right growing tent that's budget-friendly and, at the same time, made of quality materials can be challenging.
No worries, because we've listed some of the best grow tents above. They were reviewed thoroughly and will surely provide the best protection for your crop. But if you want our opinion, VIVOSUN's Mylar Hydroponic Grow Tent hits all the points. It's waterproof, leak-proof, and extremely durable. The price is also reasonable.
Nevertheless, the rest are also excellent grow tents, so whichever you choose will definitely be a good buy. Happy gardening!