One of the best ways to smoke weed is by rolling a joint or blunt wrap. However, many smokers prefer to use a bowl or bong to smoke weed since they don't require rolling. Some people indeed have a hard time rolling a perfect joint. This is where a weed tray comes into play.
In this post, we'll talk about weed trays, what features to look for when buying one, and the best weed trays you should try.
What is a weed tray?
A weed tray, usually called a rolling tray, is specifically designed to help you roll a blunt or joint. Weed can get stuck easily in standard trays, and it can be tough to get it out of the corners. But rolling trays have smooth and curved sides, making it easy to scoop the weed out with your finger. This type of tray is also easy to clean.
Some weed trays are equipped with holders for your rolling papers and separate sections. Though you'll need some skill to roll a joint, a weed tray can make it easier to master the craft. They'll give you a spacious, flat surface that provides plenty of space to roll joints and keep everything in place.
What are the different types of weed trays?
Rolling trays come in different types, brands, and designs, but they're mainly categorized by the materials used. Here's a list of the most common types of rolling trays:
1. Metal weed tray
Metal trays are the most durable and affordable type of rolling tray. They come in a variety of sizes and designs to suit your needs. Metal rolling trays may seem plain compared to the others, but they're very functional.
Metal has great durability and is usually priced reasonably. However, it can be harder to clean when it gets dirty. And if it isn't cleaned properly, it can even rust.
2. Plastic weed tray
If you're looking for an affordable weed tray, then a plastic tray is your go-to. It may not be as durable as a metal tray, but it's all-purpose and can function well. You'll also see plastic rolling trays with intricate features and storage spaces. Moreover, they're handy and easy to carry when you're traveling, allowing you to roll a blunt wherever you go.
Like metal trays, you also need to clean plastic trays properly. Take care not to scratch the material, which can affect the protective coating on the surface of the unit.
3. Wooden weed tray
Wooden weed trays usually have engraved artwork, unlike the others. They have more elaborate features and details. However, wooden trays are more costly than plastic or metal due to their complexity. You rarely see bare wooden trays because most of them have multiple compartments carved into the piece to keep your essentials for rolling joints organized.
Wood is the ideal material for a weed tray because of its design, versatility, and durability. However, they're the most costly, and they're not always easy to clean. The weight of the weed tray can also vary depending on the type of wood used.
4. Glass weed tray
Though not as common, glass rolling trays can also be durable because the material is super thick. That said, these trays are heavy, so they're less practical to bring around than metal or plastic weed trays.
But if you want a fancy type of rolling tray, go for a glass one. It's easy to clean, though it's heavy to carry and can shatter if dropped. Glass can also be costly, depending on the quality.
What are the benefits of using a weed tray?
If you enjoy rolling joints, then you should get a rolling tray to add to your weed accessories. Here are a few reasons why a weed tray is a necessary tool:
1. It makes rolling easier.
One of the main reasons a rolling tray is a must is because it's helpful when preparing blunts and joints. They make the task less complicated, and the shape of the rolling tray can hold all the weed in the middle of the rolling paper. This makes rolling easier and results in a cleanly wrapped joint.
2. It's less messy.
We all know that weed is not cheap, so you don't want to end up spilling it all over the table or floor. As much as possible, you want to salvage every bit of it. This can be avoided by using a rolling tray since it provides plenty of room to get your rolling done without wasting any weed or making a mess.
One of the best things about using a rolling tray is that it can save even the smallest pieces of weed in the corners because that's how rolling trays are designed. Also, they're quick to clean afterward.
3. You can roll anywhere.
If you travel a lot but want to roll blunts regularly, then getting a weed tray is a good idea. Moreover, it's not too big and doesn't take up a lot of space in your bag, so you can take it anywhere.
How do you choose the best weed tray?
There are many weed trays you can buy nowadays to elevate your smoking experience. But if you're looking for something special to roll your blunts with, you have to consider these things when shopping for a rolling tray:
Size
The size of the tray is important because it affects its function. Think about how many joints or blunts you normally roll in a day before you buy one. Do you plan to roll one joint at a time or many in one sitting?
Larger trays provide more room to set up, but they'll be bulkier and harder to transport. Meanwhile, a smaller tray is more compact, so you can bring it anywhere with you. However, a small tray won't provide enough rolling space. A larger tray is generally better because you have a wider area to catch the weed in case you spill some of it.
Material
The material should always be considered when choosing a rolling tray because you want to be sure of its durability and usefulness.
Besides wood, metal, plastic, and glass, there are also other options, such as ceramic or stone. They'll vary in durability depending on how well they're made.
Cost
A decent quality rolling tray's price can range anywhere from $8 to $15, though larger trays can go for around $20. For higher quality metal trays with advanced features, expect the price to go up to $30. Glass trays cost around $30 and more. Meanwhile, wooden trays are the most expensive and could go as high as $100, depending on the features.
Lifted edges
A rolling tray is designed to catch and hold your herb while rolling a blunt. When looking for the best weed tray, look for a curved edge that's high enough to keep stuff from falling out of the tray. In addition, you want to make sure that you can get the weed that's stuck in the crevices.
Slot and storage
A tray with a slot and extra storage gives you a safe place to keep your rolled joints, crutches, and other mini accessories. A lid adds another level of protection. Some trays even glow in the dark or have LED lights, just in case you're rolling in a dark place.
What are the best weed trays?
Before we go into the actual review, here's a quick table of comparison of the different brands and their price ranges:
This RAW rolling tray is made of beautifully crafted bamboo wood, and you can feel the quality from just one touch. The three separate panels are held together by strong magnets, so you don't have to worry about it breaking or falling apart in the middle of your rolling session. It has a perfectly smooth finish that's ideal for rolling both fat and slim blunts.
If you're a smoker that likes to keep things clean and neat, this sophisticated rolling tray is the one for you. You can easily prepare your herb and still have sufficient space to roll comfortably.
Made of high-quality bamboo wood
Equipped with a magnetic locking system with 8 different configurations
Foldable tray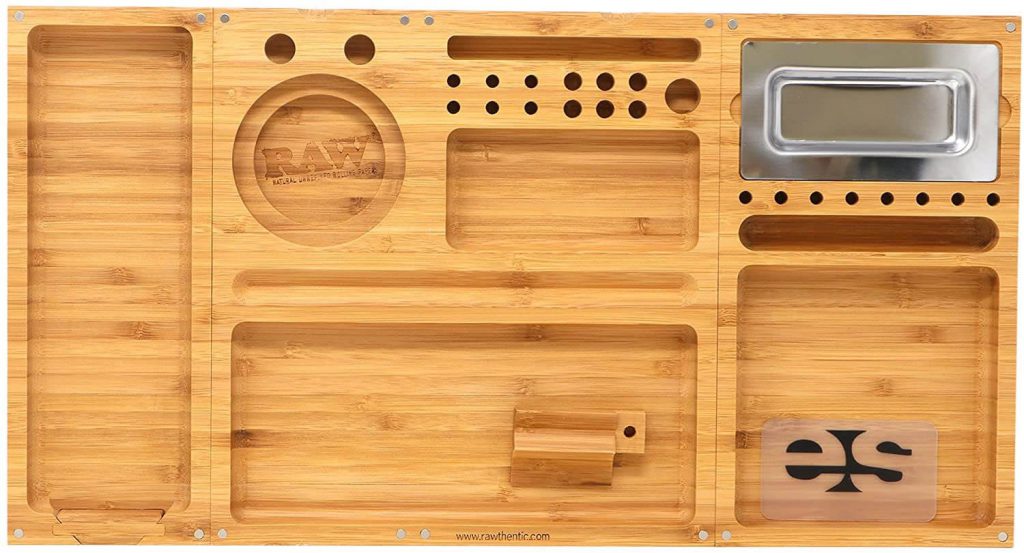 This is one of the best finds on the market today. For one thing, it comes in three parts that can be used separately, or you can join them together to get a wider rolling tray. It also comes with an ashtray and a scooper. There's also plenty of space for everything with this weed tray, and it even has round holes where you can keep the blunts you're done rolling.
Overall, this product has one of the best rolling tray designs while remaining simple for everyday use. If you don't want to keep your weed on display, you can safely store it in this unit by transforming it into a box. No one will know what you use it for.
Has a removable ashtray
Has three removable parts that can be joined together
Can be transformed into a thin box
Can be a bit heavy for some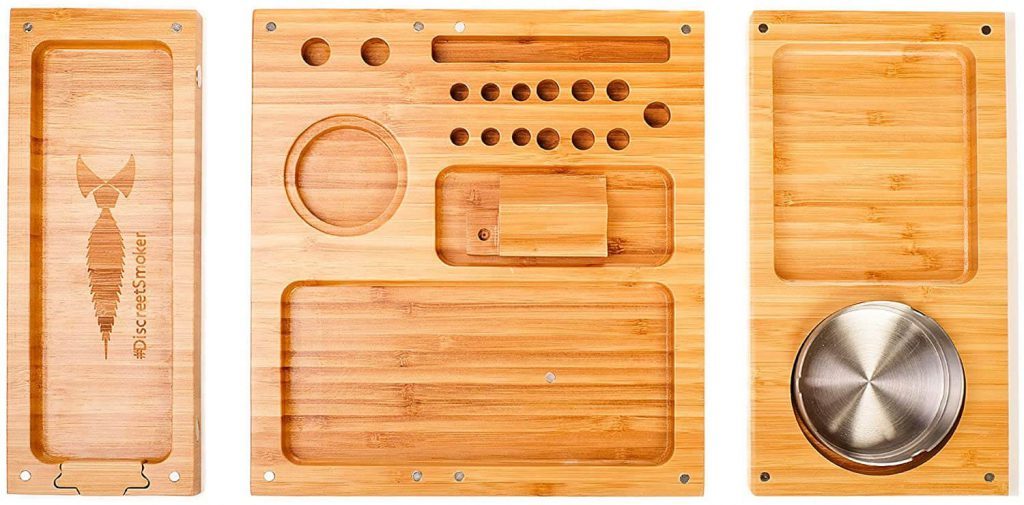 If you want something that you can carry around in your pocket or handbag, then CASE ON IT Folding Rolling Tray is one of the best choices. This tray serves two purposes. You can fold it out and use it to roll your joints easily, just like a regular rolling tray.
You can also use it to keep your weed secure when you fold it up. This means you won't lose any weed. Moreover, this rolling tray is smell-proof, so nobody will be able to tell that you're carrying herb with you.
The best thing about this cannabis rolling tray is that it comes in many colorful designs, so you can find one that suits your style. This tray is laminated, so a minor spill won't destroy it, though too much liquid can.
Water-resistant and smell-proof
Can be folded into pocket size
Can turn into storage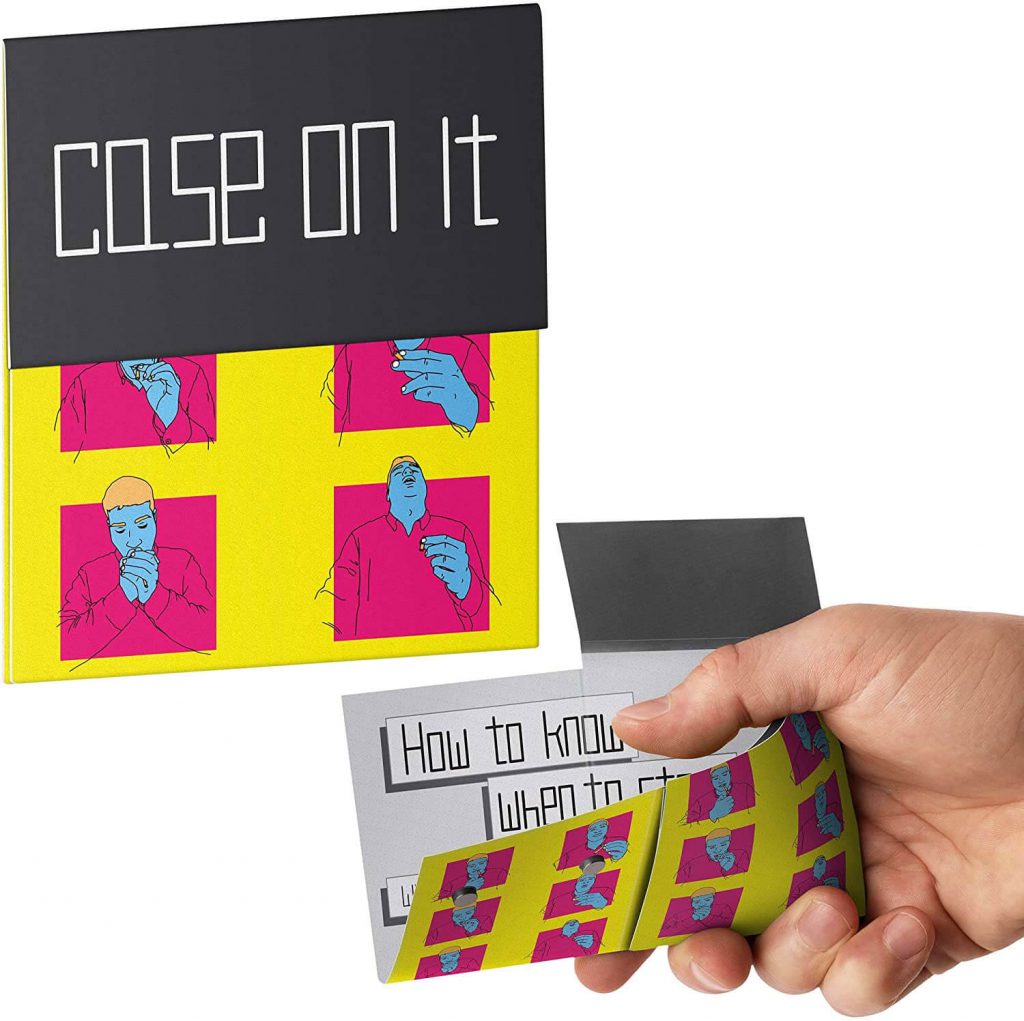 This box is multi-use since it can serve as a stash box and a rolling tray at the same time. Flip the lid and then place it on top of the box for a smooth rolling surface. The cover has a groove to keep all your weed accessories organized.
The interior of the box has a removable middle divider so that you can make two separate compartments or remove it to increase the overall storage space. This box is made of durable bamboo, so it's built to last. It's also designed to be portable.
Can be used as storage and as a rolling tray
Simple design, making it discreet
Comes with a divider to create two separate compartments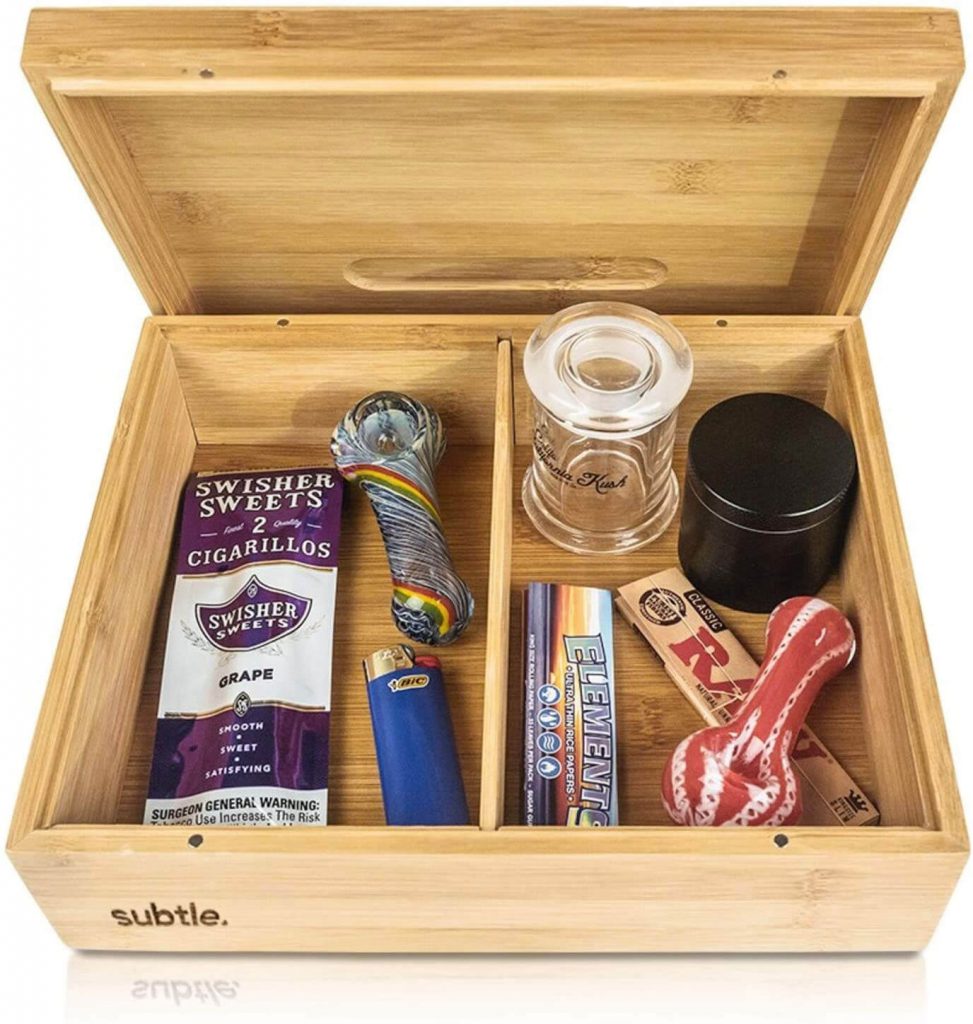 This box is made from a single block of bamboo, and it's the perfect size to stash all your weed accessories. It provides a sufficient workspace due to the extra-large rolling tray. It even has a pouring spout, allowing you to clean it quickly and easily.
Furthermore, it's equipped with a liner to protect your fragile equipment from dents, scratches, and breakage. This set comes with a magnetic CNC rolling tray lid, pouring spout, scraper,, removable divider, durable edge grain bamboo, and flute finger grooves.
Comes with a removable WDCRFT felt box liner for protection
Best value for your money
Large enough to hold all your accessories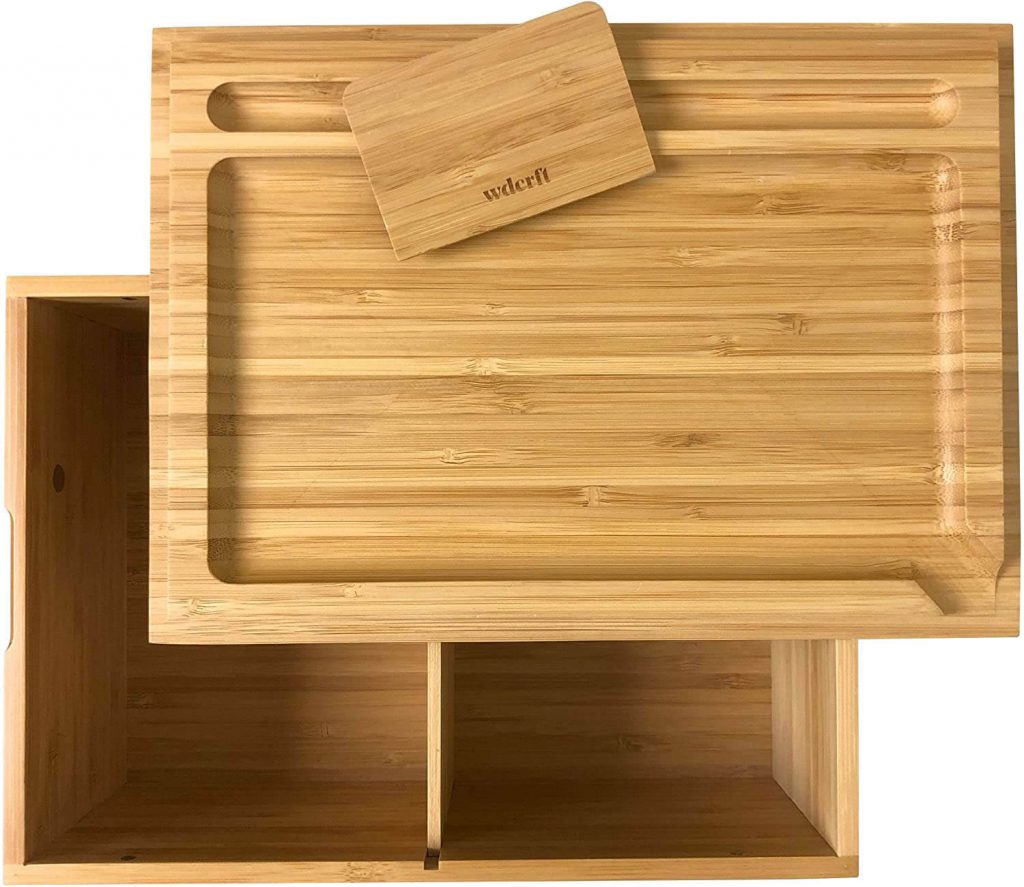 FAQs
Are rolling trays worth it?
If you love rolling blunts and you want to do it without wasting any of your bud, then a rolling tray is an excellent investment. You'll always have a suitable surface for rolling, and many rolling trays have features that ensure that no weed is wasted during rolling.
What is the best rolling tray material?
Plastic may be cheap, but it's not as durable as metal. However, metal is prone to rusting and can be difficult to clean. Meanwhile, glass looks fancy but is heavy and can shatter if dropped. Therefore, wood is your best bet because of its durability and ease of cleaning. Still, wood can be expensive.
How big should a rolling tray be?
The size of the weed tray will depend on your needs. If you want something that you can carry around with you, then choose one that can be folded into a smaller size. But if you want your rolling tray to be able to hold all your accessories in place while rolling, then look for a larger one.
Conclusion
A weed tray is a basic necessity for any smoker who loves to roll joints or blunts. The smooth, flat surface is great for elevating your smoking ritual. There are many options out there, so make sure you read our buying guide to help you choose what's best for your needs.